PERFORMING TRIBUTE 9/11 PRESS
9 11 Memorial Play tells the stories of September 11
by MARIA ALVAREZ. Special to Newsday August 25, 2011
Their 9/11 stories speak for themselves — no need for actors or re-enactments.
"We are the real people and the audience can get a personal connection to the 9/11 story and what happens afterwards," said Gerry Bogacz, who escaped from the 82nd floor in the north tower, but lost three friends in the attacks.
He is one of five people appearing in "Performing Tribute 9/11," a play in which those involved are on stage to describe what happened to them nearly 10 years ago. Bogacz, who has no acting experience, said telling his story allows him to reckon with the life-changing day and "acknowledge that many people didn't make it."
"I think people need to keep in mind that there were a range of experiences, and that it's not just about the towers collapsing," he said.
Playwright Donna Kaz said the "intimacy" of a theater setting brings a life-size reality to the 9/11 experiences of the performers, who are all volunteer docents at the Tribute WTC Visitor Center. They give Ground Zero tours, recounting their personal experiences.
Kaz, who also is a volunteer, said when she "heard the incredible and empowering stories" of docents like Bogacz, she began to tape-record them.
"I wove their stories together — telling what they were experiencing at the time and 10 years later," she said.
The performers include an FDNY widow, a first responder, an evacuated neighborhood resident and people who escaped the burning towers.
The stage setting has five performers each sitting in a chair alongside a piece of steel from the World Trade Center.
Kaz said the performers "alternate telling their stories. It's a cathartic experience," she said, adding the play heals its performers who realize their stories will not be forgotten.
"People went through a tremendous amount of stress and grief — but silence is not the way to go with it. Sharing the experience is," she said.
"It's important to tell my story because it is the truth," said Anne Van Hine, 57, who lost firefighter husband Bruce Van Hine, 47, in the south tower. He was with Squad 41 Company in the Bronx.
After the play, the audience asks the performers questions — an illuminating moment, said Van Hine. "I think it's because they have never heard a firefighter's widow before," said Van Hine, 57, whose two daughters were 1 14 and 17 when their father died.
Being in the play has given Van Hine a new perspective. At first, "I was looking at the rebuilding of Ground Zero from an FDNY widow's point of view. But this experience has taught me that there are other stories that I didn't hear."
The play is being performed Sept. 7 at 7 p.m. at the Theater at St. Clement's on 46th Street; on Sept. 8, 7 p.m., at All Souls Church on Lexington Avenue; and Sept. 17th at 7 p.m. at Jan Hus Presbyterian Church on 74th Street. Admission is free.
9 11 Memorial
http://www.newsday.com/news/new-york/9-11-play-full-of-empowering-stories-1.3122298
Performing Tribute Keeps Stories Of 9/11 Alive
By: Frank DiLella of NY1
With the 10th anniversary of 9/11 less than a month away, some survivors are turning to the theater to remember those lost in the tragedy. NY1's Frank DiLella filed the following report.
September 11th was a Tuesday that changed the country and the world forever. Now, almost 10 years later, a group of New Yorkers directly affected by 9/11 are using the power of theater to educate and heal.
The piece is called "Performing Tribute" and it weaves the stories of five New Yorkers together as the early morning hours of 9/11 unfold.
Theater artist Donna Kaz is at the helm of the docu-style drama. She says that she was inspired to create the piece after volunteering as a tour guide for the WTC Tribute Center back in 2005.
As I was doing these tours I started to meet others who were doing the tours and sharing their stories and all these stories inspired me. I thought so many people should be hearing these stories," Kaz said.
The play had its world premiere in 2007 at the TriBeca Arts Center. Since its inception the piece has been performed all around the tri-state area.
Widow Ann Van Hine is in the current company of "Performing Tribute." Her husband Bruce was one of the 343 firefighters who died in the line of duty on September 11th. Ann says she finds that bringing her family's story into the spotlight is a form of therapy for her and her fatherless daughters.
"He was doing his job that day, a job that he loved," Van Hine said. "And so my daughters and I, though we had a personal loss during the midst of a national tragedy, he died in the line of duty. And with that as a firefighter, that's always a possibility. But you can't imagine being thrown into what 9/11 is. But that's how we get through it."
The play, last performed at Harlem Stage uptown, proved to be very emotional for both the players and the audience. Sister Fran Gorsuch took in the recent presentation of "Performing Tribute" and says that it's an eye-opening experience.
"I've had some very mixed feelings about the 9/11 memorial and the costs and all of that. And something about tonight put it in place for me. Nothing we can do as a country is enough or too much for the people who lost loved ones during 9/11," Gorsuch said.
"Performing Tribute" is set to play four more performances in and around New York City through September 17th as a 9 11 Memorial.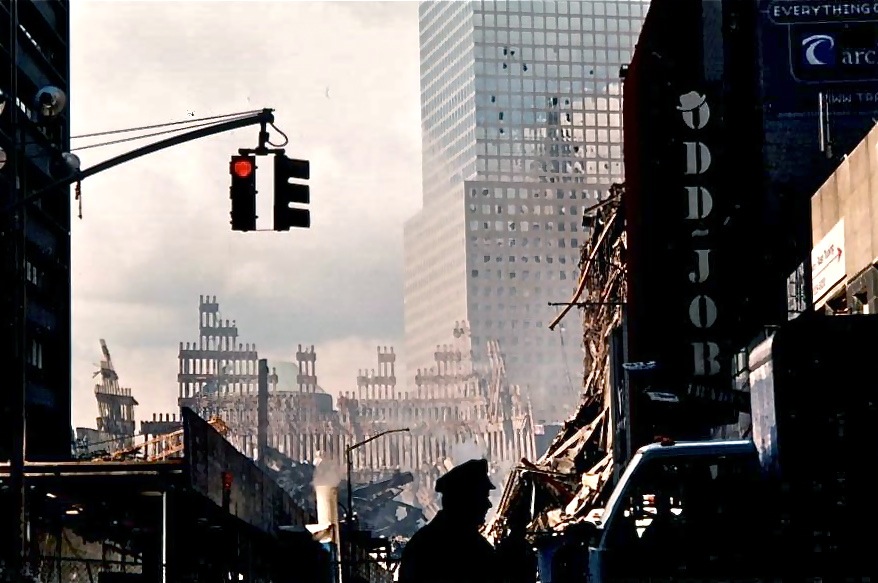 Sharing the Pain of 9/11 Loss
By DAVID W. DUNLAP, The New York Times, City Room  – October 21, 2008
The troupe of "Performing Tribute," presented by the Tribute W.T.C. Visitor Center, after performing for the first time on Monday. From left, Bridget Damiano, Donna Kaz, Gerry Bogacz, Katherine M. Richardson, Ann Van Hine, Gail Langsner and Paul McFadden. (Photo: David W. Dunlap/The New York Times)
"They found a piece of Joe's elbow first."
Bridget Damiano speaks the line without dramatic inflection. These are words that scarcely call for embroidery. But her voice is not without affect. Rather, she speaks with the plain, compelling voice of experience. She is, after all, describing a cousin who died at the World Trade Center.
Ms. Damiano and five other volunteer tour guides from the Tribute W.T.C. Visitor Center opposite ground zero told their stories to a seated audience on Monday night, in a production titled "Performing Tribute." (Limited seats are still available for a second presentation on Tuesday evening; details are below.)
Under the direction of Donna Kaz, the troupe takes turns describing the era before 9/11, then the day of the attacks and then the aftermath, through interwoven, personal narratives.
The point of "Performing Tribute" is to expose wider audiences to these stories. And to raise money for the center. The power of the accounts comes from their understated detail.
Gerry Bogacz, who was in the trade center that morning, described the building jumping back and forth more than three feet and recalled an almost tangible sense of panic forming on the fire stairs, spreading from one person to another before it abated.
Ms. Damiano talked of volunteering to work for the Salvation Army after 9/11 and being asked what she could do. Stumped for a moment, she said she suddenly realized: "I'm a wife. I'm a mother. I'm Italian. I can cook." And so she did.
Gail Langsner, who was tending pet birds in her nearby home, remembered escaping with bird carriers hung on a yoke like broomstick over her shoulders — "like every picture of fleeing refugees you've ever seen" — and trying to brush pinhole-sized burns off her shirt from the shower of particulate debris.
Paul McFadden, formerly of the Fire Department's Rescue 2 unit Brooklyn, spoke of his confidence when arriving on the scene that Chief Raymond M. Downey would already have the situation well in hand — until he ran into one of the chief's sons, a firefighter, who told him, "My father's under this rubble."
Katherine M. Richardson, whose husband, Robert McPadden, was in Engine Company 23, said she knew when she learned that more than 300 firefighters had perished that Bob would not be coming home. She recalled telling the medical examiner's office to stop notifying her every time one of his remains was found and she remarked on the phenomenon of receiving 10 death certificates.
Ann Van Hine, who was married to Firefighter Richard Bruce Van Hine of Squad 41, noticed something else about the death certificates. The cause was listed as, "Homicide."
For this reporter, who has probably spent more time at ground zero in recent years than any of his colleagues, "Performing Tribute" was a quiet reminder that the construction going on now is more than redevelopment.
It is recovery.
A second performance is scheduled for 7:30 p.m. on Tuesday in the TriBeCa Performing Arts Center at the Borough of Manhattan Community College, 199 Chambers Street.
WHAT PEOPLE ARE SAYING ABOUT
PERFORMING TRIBUTE 9/11
"A profound performance that shows the heroism of people who have chosen to respond to devastation and hatred with quiet determination and a belief that they can and will make the world a better place."
Michael Arad,
Designer of the World Trade Center Memorial
"Six stories of 9/11 told by family members, survivors, first responders, volunteer workers, and residents are woven together in this dramatic and groundbreaking theater piece."
Stefan Pryor, former President
Lower Manhattan Development Corporation
9 11 Memorial Play – REACTIONS FROM HS STUDENTS
"…a great opening to our Awareness weekend. "Performing Tribute" had a significant impact on our students."
Jim McGowan, Bay Shore High School
"I was very young when the World Trade Center was attacked and I didn't really understand how big of a deal it was."
"I never heard so much about it again until Performing Tribute. One of the main messages was the importance of remembrance and after they spoke I am sure I will never forget their stories and what happened on that day."
"I loved Performing Tribute. The pain the speakers went through and the great forgiveness – WOW!
GREAT MAN!"
"The one word I can think of to describe Performing Tribute is inspirational. It made me realize that we all have a different memory of the chaos that occurred on 9/11 but in the end we all felt pain in some way. The sadness we feel binds us together and helps us heal. Telling your story is a profound way to heal your wounds."
"Performing Tribute changed my view of 9/11. These people are a living testament of how many people were connected to the events on that day and how that event changed the lives of so many people in extraordinary ways."
"Performing Tribute reminded me of the need to move forward in the wake of a tragedy. Seeing people who have been able to move forward was inspirational. "
"Performing Tribute allowed us all to experience, in great detail, exactly what took place on 9/11 and how it changed the lives of so many people forever!"