September 11 2001 CAST
PERFORMING TRIBUTE 9/11 Ordinary People, Remarkable Stories. 
Gerry Bogacz works for the New York Metropolitan Transportation Council and was on the 82nd floor of North Tower in both the 1993 and September 11th attacks.
Desiree Bouchat is a consultant with AON Corporation and is a survivor of the South Tower.
Bridget Damiano lost her cousin, Joseph Pick, in the South Tower on September 11 2001. She was also a volunteer with the Salvation Army from September 2001 until the end of the recovery in May 2002.
Gail Langsner is a resident of Lower Manhattan and lived on the 12th Floor of an apartment building on Liberty Street opposite the South Tower. On the morning of September 11th, she was out voting at her local high school when the first plane hit the North Tower. Gail was not able to return to her home for over fifteen months after the attacks.
Paul McFadden is a retired firefighter who worked in Rescue 2 in Brooklyn and was involved in the rescue and recovery effort after September 11 2001.
Bob Nussberger is a retired volunteer firefighter from Broad Channel, New York.
Kate Richardson lost her husband, firefighter Bob McPadden of Engine 23 on September 11th. Bob and Kate were in the process of moving to Pearl River, NY, days before September 11th and were married for 3 years. Kate has since remarried and has two young sons. She is a Professor of Management at Pace University.
Ann Van Hine Ann's husband, Bruce, was killed in the line of duty on September 11 2001. Bruce worked as a firefighter for Squad 41 in the Bronx. Ann is the author of the memoir "Pieces Falling."
Ray Habib Ray's wife, Barbara, was a Senior V.P at Marsh & McLennan for almost thirty years. Her primary office was in Midtown Manhattan but on September 11th she was attending a meeting at the Marsh & McLennan offices on the 99th floor of the North Tower.
Anthony Palmeri worked for the New York City Department of Sanitation for 23 years.  After September 11th he volunteered to work the recovery at the site.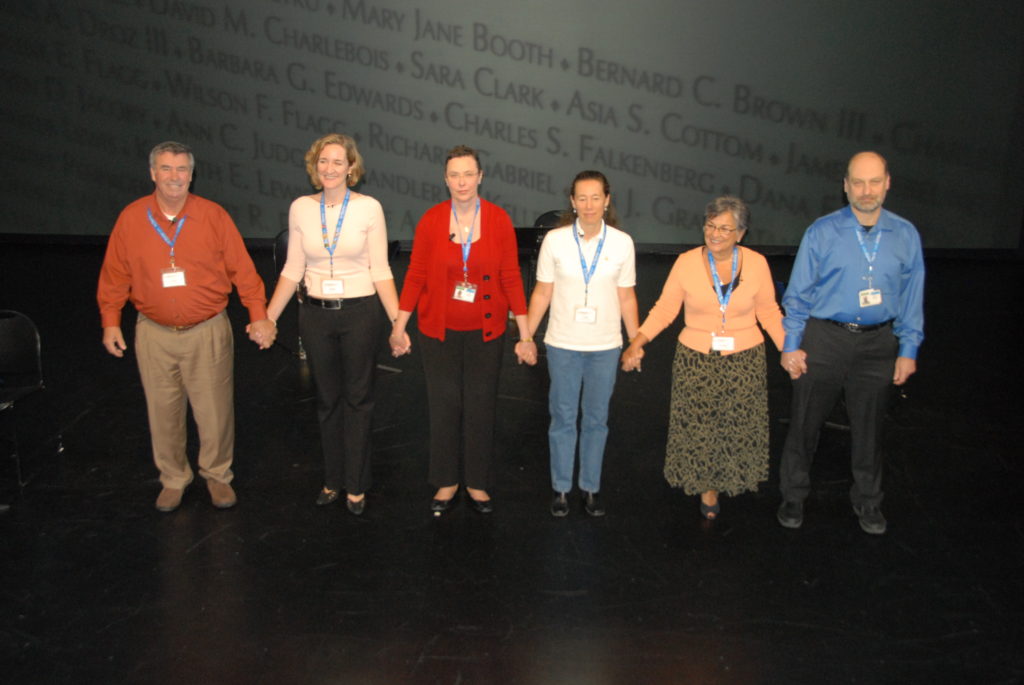 THEIR WORDS:
"One of the elevator doors was slightly open and there was black smoke coming out of the elevator shaft and I felt really trapped and was trying to figure out do I stay on line for stairwell C or do I go back to where I was coming from." – Gerry, North Tower
"And as I got on the highway to head home I heard the fire department issue their total recall for all firemen…. I knew that the fire department does not issue total recalls and that they had never done something like that. I just thought OK we're at war." – Anne
"We were trying to figure out what to do when my neighbor looked out the window and saw the top of the tower start to tilt and screamed to get in the back room. We ran into their back room which has no windows and basically just prepared to die." – Gail, area resident
"I got back to my parents house about 8 o'clock that evening and my Dad picked me up at the train station and when my Dad saw me he gave me a big bear hug and just started to cry. It was the first time in my life that I had ever seen him cry. He said we have to pray, Katie, we have to pray for Bob. " – Kate
"…I went right up to them and I said "Joe, where's your Dad, where's the command post?" And he looked at me and he said "Paul, I have to go home to my mother because my father is under this rubble". – Paul, NYC firefighter
"One of my friend's father suggested that I volunteer for the Salvation Army. I went in for an interview and they asked me what talent I had. I don't any talents….and finally I thought well I'm Italian….I can cook. So they assigned me to the food truck at the Medical Examiners Office. " – Bridget, Salvation Army volunteer
"My wife and I had just moved to a new apartment in Brooklyn. She was a great cook and ironically cooked her first pasta meal in the new place on September 10th. When she didn't come home (and she was a strong woman, she would have found a way) it changed my life dramatically. I had to submit DNA evidence and file for a death certificate, which I never imagined I would have to do. New York City gets a bad rap for being a cold-hearted city but it is not true. This city could not have been nicer to me and all the other families."  – Ray, family member
"They took me to the hospital because I had a fractured skull and nerve trauma to my neck. Both my shoulders are fractured, I had a broken nose and 6 fractured toes. My hearing also went. I have no idea how I got any of those injuries." – Bob, first responder
"9/11 was the worst time in my entire life.  But it was also the best time in my life because I got to meet some very wonderful people. And now I get to stand here and tell you my story and I want to tell you that you honor me by listening. Today you probably did more for me and everyone else here then we did for you because we need to talk about this to heal inside. And tonight you have allowed me to heal inside that much more. We must remember the people we lost but we must also remember all the good things that people did for others after 9/11 and keep doing them." – Anthony, recovery worker
For more information contact us here.